A View from Deoban, Chakrata
Today's post is dedicated to Chakrata- a stunningly beautiful little-known town in Uttrakhand. This post also marks the continuation of the series of posts on Uttrakhand that I began a few days ago. I deliberately chose writing on the places in Uttrakhand, simply because I am living in this stunningly beautiful and serene state for more than one and a half years now!
If you have travel plans to Uttrakhand, you should go ahead and read those posts as they're going to help you a lot. 
Here are the links to those posts:
Things To Do In DEHRADUN (Activity #6 Can Surprise You)
The Ultimate Guide To MUKTESHWAR
Dehradun is very near and it offers a huge variety of stay options:
Limited time offers on some of the best hotels in town, including Four Points by Sheraton. Grab them now, right here! 
Before we go further, here are the highlights about Chakrata:
Chakrata is the prime destination for skiing, mountain climbing, and trekking.

Chakrata is a quaint hill station located above the Yamuna valley.

It is a former summer retreat of British officials.
Surrounded by lush conifers, fiery red rhododendrons, towering oaks, and the mighty snow-covered Himalayas, Chakrata is one of Uttarakhand's true (hidden) treasures. 
The distance between Dehradun and Chakarat is about 88 km. Situated at around 7,000 m above sea level, the Chakrata served as a summer retreat for senior officials of the East India Company during the British Raj era.
The laid-back atmosphere of the Chakrata overlooks the Yamuna Valley below. This hilly town is a paradise for nature lovers, wildlife photographers, and bird lovers. The forest is home to a variety of animals, including wild birds and spotted deers. Chakrata forests also have several types of medicinal plants.
Birdwatchers can head to the Deoban area (approximately 13 km from Chakrata). At an altitude of about 9,400 meters, the Deoban region boasts a thick cedar cover and unobstructed views of the Himalayas.
Another popular tourist attraction in Chakrata is Tiger Falls. About 5 km from the town, this waterfall falls from a height of over 300 meters into a rocky pool. Well, this is just the tip of the iceberg, there is so much to explore in Chakrata!
Excited? Want to explore Chakrata with me? Great, let's get started!
1. Kanasar
While driving to Chakrata, you will soon realize that it is a backpacker's paradise. Camping at this quaint hill station is one of the exhilarating things that you should not miss if traveling with friends. Kanasar has many camping services that offer tents with all the basic facilities. They also plan several adventure activities such as rock climbing, waterfall rappelling, and river rafting.
However, if you are traveling to Kanasar with family, it is highly recommended that you opt for one of the highly acclaimed homestay options. You can also find some of the coolest deals on Trivago website, right here.
In addition to camping in Kanasar, you can also enjoy other activities such as nature walks and bonfires. In addition, starry sky observation is always a pleasure for summer campers. If you haven't tried stargazing before, this is one activity you should definitely try. The memories of stargazing at Kanasar will stay with you for a long-long time!


2. Tiger Falls
The magnificent beauty of Tiger Falls (about 20 km from Chakrata) is as fascinating as the short and easy trek (about 5 km) that visitors have to go along the path lined with rhododendrons and oak trees. Also known in the local language as Keraao Pachad and Kailu Pachad, the waterfall is surrounded by thick forest and is touted as one of the tallest waterfalls in India.
Water runs down to a height of 312 feet. The water collects in a small pool and is used by visitors to bathe in cold water. The spot wasn't connected by a motorway, so it wasn't as crowded or commercial as a popular nearby destination, so it was able to maintain its pristine beauty.
Picnics and photography are two of the most popular activities here. If you're a bunch of young people looking for budget hostels, check this website for great deals. Families can grab the best deals on best-in-class hotels on Trivago.
3. Deoban
A British-era Guest House in Deoban, Chakrata
About 13 km from Chakrata is Deoban, one of the highest viewpoints at an altitude of 2200 m. Surrounded by dense cedar forests and fascinating views of snow-covered peaks and high mountains, it is one of Chakrata's most popular attractions. One of the most exciting things to do there is to see different kinds of birds.
Come to Deoban to find beautiful and rare birds such as Russet Sparrow, Yellow-crowned Woodpecker, Himalayan Woodpecker, Hawk-cuckoo, Chukar Partridge, and Cinereous Vulture.
Tip: you won't be able to shoot pictures using your mobile cam. You are strongly advised to carry a DSLR camera with you.


4. Budher Caves
The Budher Caves are about 30 km from Chakrata. They are best known for their stalactite and stalagmite formation, It is an ideal location for exploration adventures. Caving is one of the most thrilling experiences. People who have visited Robber's Cave in Dehradun will happily agree with me :)


5. Chilmiri Neck
Only 20-30 minutes from Chakrata's main town, Chilmiri Neck is the highest place in the town, with breathtaking views of the surrounding mountains, making it one of Chakrata's most popular attractions. From here you can see Rohini Peak, Swarga Peak, and the snow-covered Bander Punch range.
The dense forest around it guarantees a wonderful time for bird watchers. Beautiful birds, colorful butterflies, and gorgeous scenery are some of the must-see places in Chilmiri Neck. For nature lovers, watching a spectacular sunset at Chilmiri Neck is at the top of the list of things to do in Chakrata. Stay here for a few days in a cozy hotel/homestay, find the ongoing hot deals right here.
6. Yamuna Adventure Park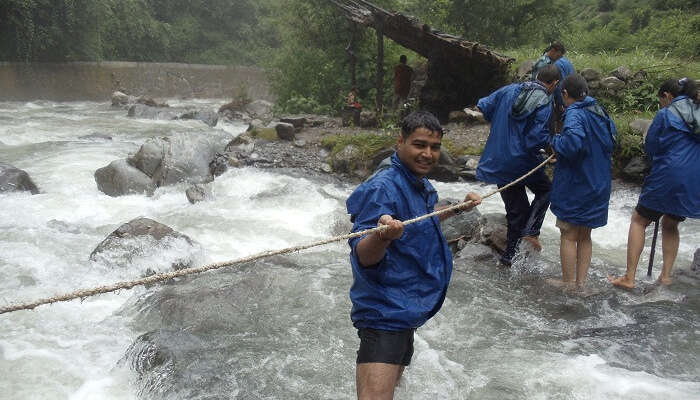 Youngsters Having Fun at Yamuna Adventure Park, Chakrata
Enjoying the water at Yamuna Adventure Park is everything. Needless to say, you need to visit this place in the summer. This is the time to get the most out of all your water activities. 
Activities such as rappelling, crossing, swimming, and bridge slinging can be enjoyed at Yamuna Adventure Park. Chakrata is full of surprises and a lot for everyone. But Yamuna Adventure Park is a place for water babies. Sorry, if you're not a water baby, there's a more fun place in Chakrata :)
There are some ongoing fabulous offers on Trivago, book your happy times right away, right here!


7. Moila Bugyal
Moila Bugyal, Chakrata
Moila Bugyal, also known as Moila Top is a hiking and camping destination. It is around 40 km from Chakrata and boasts of a thick forest mainly consisting of deodar trees. The expanse of Moila Bugyal is breathtakingly beautiful and I'm sure you will easily agree with me to call as Switzerland of India!
Wanna stay here for a few days to beat the heat? Find the 
best hotels 
at
amazingly low prices
 right here
. 
8. Kimona Waterfalls
Kimona Water Falls is just 2 km from Chakrata and is famous for rappelling. It is located in a dense forest with stunning oak trees. If you're an adventurous person, you'll love rappelling in the water that falls from a height of 35 meters.
Summer is the perfect time to visit Kimona Falls, as you can enjoy exciting rappelling with family and friends. Thankfully, not many people know about Kimona Falls, so it won't get crowded. This means you can have a great time here with your family and friends minus the crowds!


9. Makhti Pokhari Village
Another of the many popular Chakrata attractions, Makhti Pokhari Village, is one of the types that can be done in Chakrata, and village visits are planned to facilitate tourism in the village. These trails will take you to the villages of Makhti Pokhari and Jaunsari where you can meet and interact with the locals. And know more about their lifestyles, customs, and traditions.
Cycling is also one of the best activities in the Chakrata, so you can also explore the village on a bicycle. People from other states might find it awkward, but cycling is a loved sport in Uttrakhand. There are numerous cycling groups here that regularly go on cycling expeditions to explore and appreciate the serene beauty of Uttrakhand.


10. Lakhamandal Temple
Lakhamandal Temple is an ancient Hindu temple located just 100 km from Chakrata and is an important historical and mythical location in India. Lord Shiva is the main god of the temple, where people come to worship from near and far.
The Indian Archaeological Survey (ASI) has found various works of art during the excavations here. Popular among the Shakti cult, this temple is believed to end the misery of everyone who seeks blessings here.
According to the Hindu epic Mahabharata, Duryodhan had tried to kill Pandava while staying at Wax's house here. As such, the Lakhamandal Temple complex is a very interesting and intriguing place to visit near Chakrata.


11. Mundoli (aka Mandoli)
A popular destination for winter skiing near Chakrata, Mundoli offers spectacular views of the magnificent Himalayas, just 36 km from Chakrata. It is one of the most popular ski destinations for skiers and snowboarders in India after Auli, and there is also a training school for amateurs.
Travelers can also visit during the summer to enjoy the lush foliage and lush natural landscape. It's also a great place for adventure lovers and couples to enjoy trekking and nature walks.
Mundali is also very suitable for people who love hiking. Spend some time in Mundali to indulge in hiking amid some of the most majestic and serene mountains around.


12. Ram Tal Horticultural Garden
The Ram Tal Garden is a small garden next to a pond, 12 km from the main town of Chakrata. A picnic, a morning walk, a romantic walk with a partner, or a fascinating spot in the green space to relax and rejuvenate in nature.
The pond is home to a variety of plants and trees, including apples, plums, and rhododendrons. It is also a birdwatcher's paradise, as you can find a variety of species here, including the Oriental Turtle Dove, Gray Treepie, and Black-headed Jay.
You are advised to carry a good pair of binoculars or a telescope to catch a real close glimpse. If you enjoy photography, don't forget to carry a DSLR with a zoom lens for those unforgettable pictures!


Frequently Asked Questions About Chakrata
Should I visit Chakrata amidst the ongoing Covid-19 pandemic?
Since not many people know about Chakrata, you will never find too many people visiting the place. Hence, it is much safer than visiting a crowded hill station or a crowded market. But, since there are frequent lockdowns across the nation, including Uttrakhand, you are well-advised to check with the government's travel advisories.
What is the distance between Dehradun to Chakrata?
The road distance between these two towns is around 88 km which should take about 2.30 hr in clear traffic.
What is the distance between Delhi to Chakrata?
The distance between Delhi to Chakrata is approximately 333 km, which is around 7 hr drive.
What is the distance between Chakrata to Haridwar?
Chakrata is just about 143 kilometers away from Haridwar and it will only take around 4 hours to reach the destination by road.
How far is Chakrata located from Mussoorie?
The distance between Mussoorie and Chakrata is 80 km, which should take about 2 hr 49 min by road in clear traffic.
What are the things to do in Chakrata?
There are so many things to do in Chakrata that you will have to plan a few days' stays in the town. Chakrata offers nature walks, hiking, trekking, caving, water adventures, skiing (in winters), bird-watching, stargazing, and much more. You can go through the post above to find the things to do in Chakrata.
Does it snow in Chakrata?
Of course, it does! Chakrata is famous for snow. You can expect snowfall in Chakrata between December - February. So, goes without saying, you will need to have snow-proof jackets before you travel to catch snow in Chakrata.
Where to stay in Chakrata?
Depending on your taste and preferences, Chakrata offers decent places to stay. You will find many comfy homestays and comfortable hotels in Chakrata. Chakrata hotels are scattered in and near the main town. Many of them offer some very attractive discounts throughout the year. You can find the all the hottest deals on hotels or homestays on AGODA or TRIVAGO websites. 
How is Chakrata weather? When should I visit Chakrata?
Chakrata temperature varies from -2 degrees (January) to 25 degrees (June). So, if you want to beat the heat, the best time to visit Chakrata is from March to June. It rains quite heavily between July to September, so you should carry wind-cheaters in your back-pack!
October to February is biting cold. While maximum chances of snow are in the months of December and January. So, depending on the reason for travel, you can choose the right time accordingly.
In conclusion, if you are looking for some amusement, fun, adventure, and spirituality, head on over to Chakrata, Uttrakhand. It is easy to reach Chakrata by all modes of transport.  Thankfully, totally untouched by commercial tourism, Chakrata is the hidden treasure that you will fondly rever.
I can bet that you will fall in love with the quaint little town and want to spend more time here than planned! Given that there is so much to do here you can easily take an entire week to explore the region and the nearby places. If you have any questions regarding this beautiful wonderland – do comment below and I will be happy to answer any of your queries.
Happy traveling!
If you have been to Chakrata, do share your experiences by commenting below, I would love to hear back! 
Till then, stay safe!👋
You may also like:
Things To Do In Dehradun (Activity #6 Can Surprise You)
11 Simple Tricks To Reduce Anxiety in The COVID19 Era
If you enjoyed reading this post, you can thank me by leaving a comment below and sharing it with your family and, friends! Thanks & Cheers! :)
Share This Article
Also, don't forget to subscribe to the mailing list to receive all the new posts directly in your inbox.