One of the nature parks in Dhanaulti
Dhanaulti is a famous skiing resort in North India, especially for the people in Delhi-NCR as it is located at a reasonable distance of around 290 km. Delhi to Dhanaulti can easily be done by car in around 7 hrs (including refreshment break in midway). There are 3 skiing resorts in Uttrakhand - Auli and Chakrata are the remaining two towns famous for skiing and other winter sports.
Dhanaulti is famous for:
Panoramic views of the Himalayas

Dense deodar and oak forests

Unwinding and laid-back atmosphere

Myriad options for adventure activities
RELATED:
Dhanaulti is known for its tranquility and serenity. At the same time, it is an amazing destination for thrill-seekers and spiritual beings. Dhanaulti is situated at an altitude of 2250 m for the sea level. Whether you are looking to catch some fresh air, find solace, beat the heat, or catch up with some snow during winters, Dhanaulti is the destination for you!
Dhanaulti is dotted with thick natural forests of deodars, oaks, and rhododendrons. As mentioned above, Dhanaulti has something for everyone. It is a base camp for various treks, including treks to Surkanda Devi Temple and Chandrabadni.
Adventure seekers have many options like rappelling and zip-lining offered by many resorts here. Winters, as we all know, turns this little quaint town into a wonderland covered in a white blanket of snow.
There is so much more Dhanaulti has to offer; keep reading to explore this stellar town with me.
1. Dhanaulti Eco Park

Dhanaulti has 2 eco-parks that are located adjacent to each other. Named Amber and Dhara, these parks are spread over 13 hectares of oak and deodar forest. Eco parks are among the most popular attractions in Dhanaulti as they offer stunning sunrise views, serenity as well as multiple fun activities like ziplining, rappelling, mountain biking, and hiking among others.
These eco-parks are well maintained and an amazing place for kids to hang out, with a separate play area for them, also a perfect place for nature lovers and adventurers to relax and spend time in solitude.
This is a perfect place for everyone, right from couples, families with kids, or a group of friends.
2. Dhanaulti Adventure Park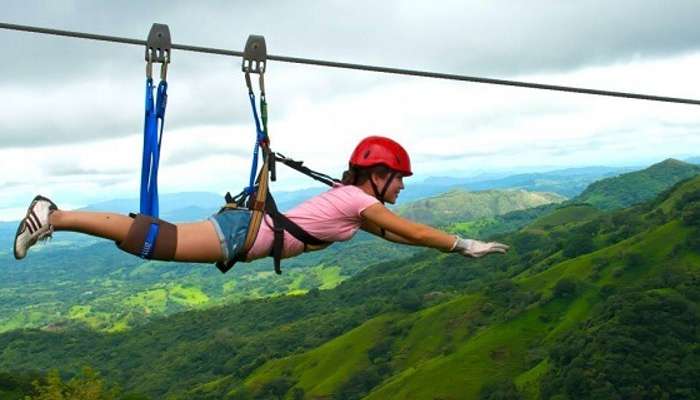 Dhanaulti is a great place to enjoy both leisure and adventure. Blessed with towering hills, snow-capped mountains, and stunning views, it is home to a wealth of adventure sports and activities.
Dhanaulti Adventure Park takes full advantage of the varied and rugged landscapes of this destination, ziplining through forest bushes, mountain biking on winding mountain roads, rappelling down majestic mountains, and trekking. It offers a variety of thrilling and adrenaline-filled activities, including stunning outdoor camping.
The Snow Adventure Zone also features vast white snow-covered meadows and is packed with exciting activities such as the Skywalk. The best part of the Dhanaulti Adventure camp is that it's a great place for family and large groups of friends to visit, so there's something for everyone to enjoy.
3. Kanatal Adventure Camp
Kanatal Adventure Camp Near Dhanaulti
For those looking for a vacation that offers adventure as well as relaxation and comfort, Kanatal Adventure Camp is your best choice. Located on Mussoorie-Chamba road in Dhanaulti, with state-of-the-art facilities, this camp is one of the most popular tourist attractions in the region. Add to this, the simple yet sumptuous food served here will make your stay here memorable.
You can also enjoy many outdoor activities, such as rock climbing, valley crossing, bonfire along with trekking, Mowgli walks, and more at this camp. In short, there is no way you can miss visiting Kanatal Adventure Camp during your trip to Dhanaulti.
4. Potato Farm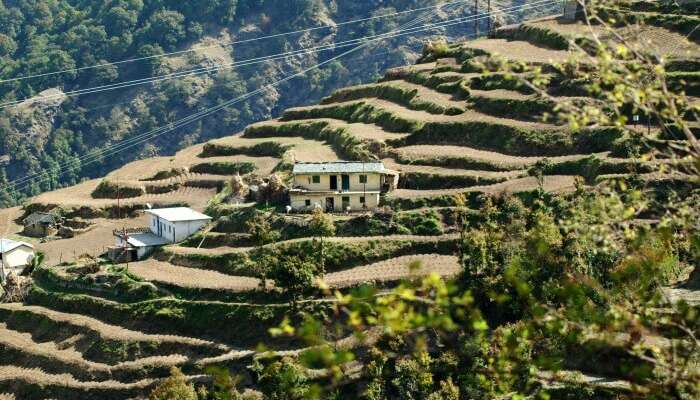 Potato Farm in Dhanaulti
The humble potato is one of the most loved vegetables across India and across the world. True aloo lovers love it in any form - whether it's all-time favorite aloo-jeera, aloo dum, sandwiches, chips, or fries. How about spending a day with your family, especially kids at a potato farm whilst your stay in Dhanaulti?
Show your kids and make them understand that potato is an underground stem. This means they grow below the ground just like the roots of a plant. They will be intrigued to attend this simple practical outing!
The Potato Farm is owned by the state government and one can see step-farming in play here. The Potato Farm also doubles up as a sunrise point from where you can have an unhindered view of the sunrise. Also, you can have a panoramic view of the Doon Valley, so don't forget to take your DSLR Cameras when visiting Potato Farm with your folks.
This rustic outing will create cherished memories for you and your loved one. So make sure to keep Potato Farm on your bucket list of Dhanaulti itineraries.
5. Camp Thangdhar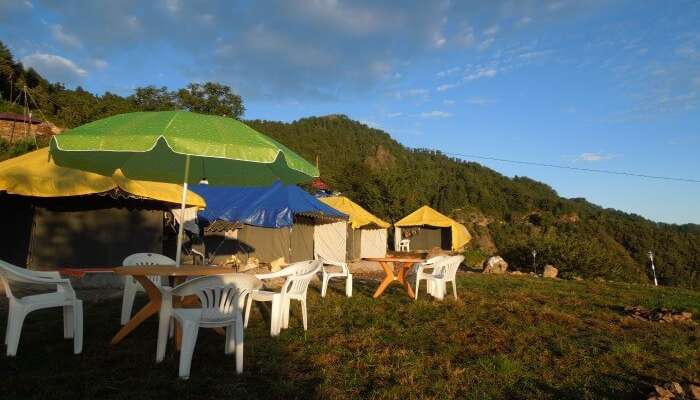 Camp Thangdhar, Kanatal, Dhanaulti
Situated at 8,300 feet above sea level in Kanatal, Camp Thangdhar is one of the best adventure camps in Dhanaulti. A haven for campers and nature lovers, the camp offers outdoor activities like river crossing, rock climbing, commando netting, rappelling, trekking, mini basketball, zigzag bar, and badminton.
For those looking for a relaxing vacation, there are plenty of opportunities here for stargazing, nature walks, hiking, bird watching, and more.
6. Apple Orchard Resort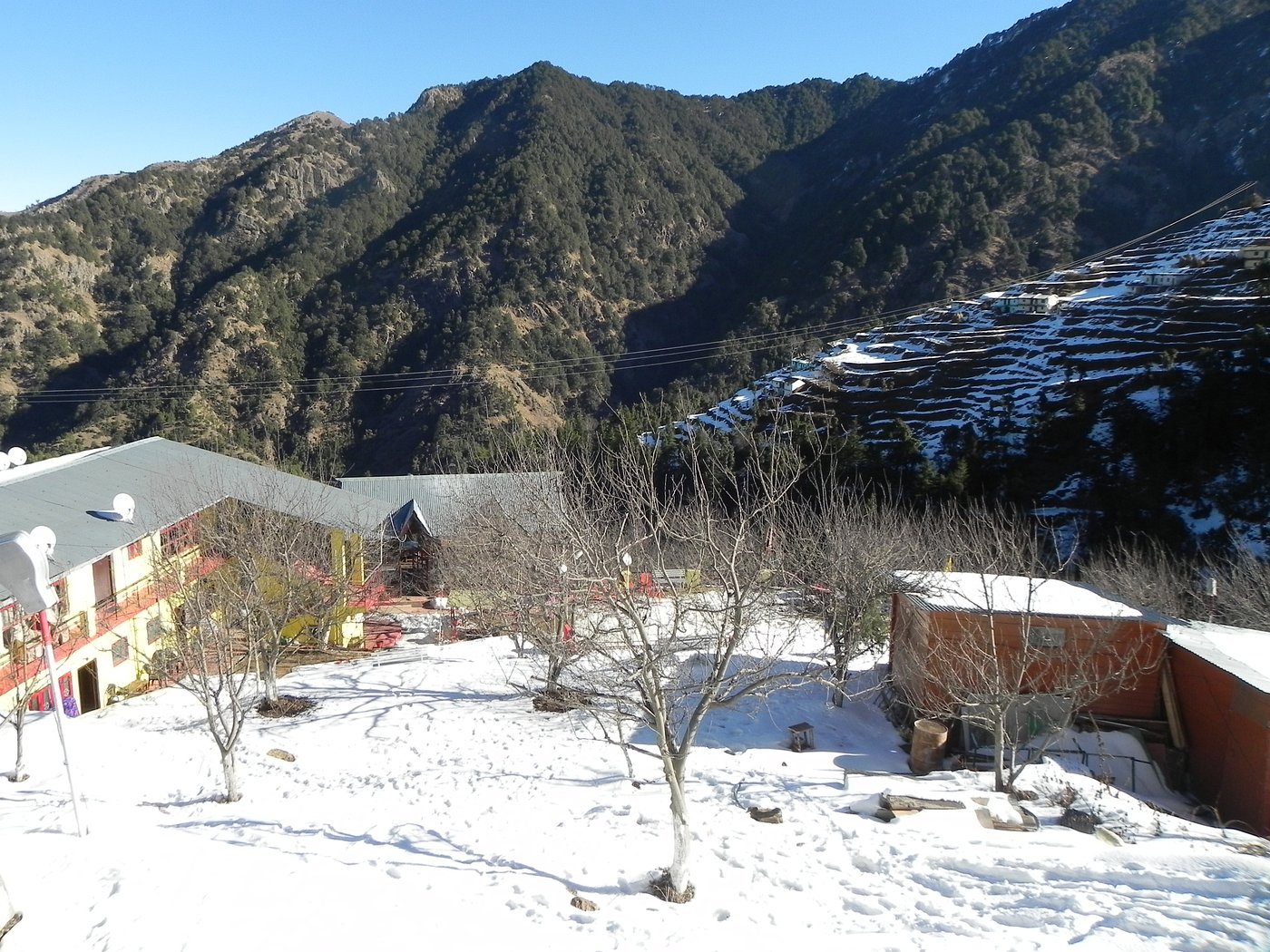 Apple Orchard Resort, Dhanaulti
Apple Orchard Resort will offer you a refreshing new experience in Dhanaulti. The orchard boasts of growing organic fruits and vegetables. One of its kind glasshouse restaurant in the Apple Orchard Resort serves mouth-watering Garhwali cuisine. If you're a foodie, there is no way you can miss out on gorging on the authentic local food here.
Also, from here, you can see picturesque views of the lush green valley and surrounding hills.
7. Tehri Dam
Tehri Dam
Tehri Dam is one of the architectural marvels in India. Not only it is an engineering marvel but it is a perfect picnic location with loads of photography opportunities.
Tehri Dam is surrounded by high hills and nestled amidst lush green fields. It's the perfect place for a picnic and relaxing vacation, and you can also enjoy a variety of water activities here.
Temple Trails
Many of you might find it surprising that Dhanaulti has so much to offer to the spiritual souls. Yes, Dhanaulti has many revered temples that you should definitely visit to find solace and seek the blessings of the almighty!
Dashavatar Temple
Dashavatar Temple, Dhanaulti
For those who like temple trails, you will be thrilled to visit Dashavatar Temple in Dhanaulti. Originally known as Panchayatan temple, the alluring architecture is a delight to see. You should plan to visit this temple with ample time so that you can soak the higher vibrations of this wonderful place.
This Gupta-era temple has the deity of Lord Vishnu and is frequented by devotees and history-loving tourists. The temple's panels are decorated with beautiful carvings that will amaze you with their rustic beauty.
Also here you can see inscriptions carved on the walls of the temple. As I mentioned above, you should not come here if you don't have ample time in hand. Dashavatar Temple will astound you and you will keep coming back whenever in Dhanaulti.
Surkanda Devi Temple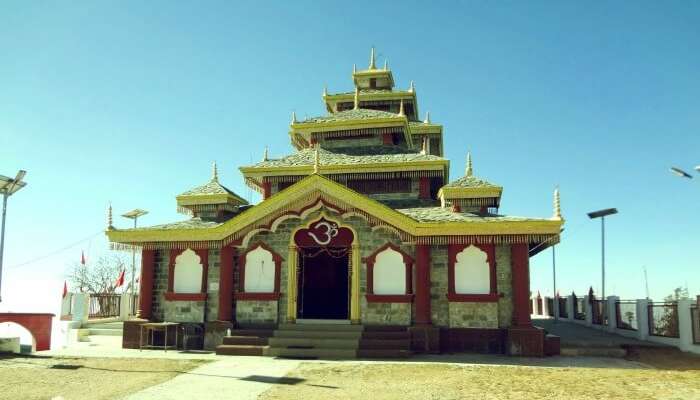 Surkanda Devi Temple, Dhanaulti
Among the clouds of mist and haze and the abundance of greenery and colorful flowers is the hilltop Surkanda Devi temple. Many people like to trek from Dhanaulti to Surkanda Devi temple, which is about 8 km from Dhanaulti.
The temple offers a breathtaking panoramic 360-degree view of the Garhwal area. To the north, you can see the snow-capped Himalayas (on a clear day). On the other side, you can see the Rishikesh and Dehradun valleys.
Best Time to Visit: This temple can be visited year-round, but if you are a religious soul, you should visit during the Ganga Dusshera festival (May-June) and soak up the festival atmosphere.
But, please note that June can witness heavy rains. So it is always advisable to hire a local cab since these people have years of experience driving on difficult terrains. In general, Dhanaulti weather is so beautiful around the year that you will yearn to come back here again and again!


How To Reach Dhanaulti
There are several ways to reach Dhanaulti. Therefore, roads – especially self-driving, taxis, and buses are one of the best ways to reach Dhanaulti.
By Air: Jolly Grant Airport, 83 km from Dhanaulti, is the closest airport.
Trains: Rishikesh Station – 83 km from Dhanaulti – and Dehradun – 60 km from Dhanaulti – are the closest train stations.
By Car: Regular buses from Delhi to Rishikesh, Mussoorie, and Dehradun are available. From these locations, you can take a private taxi to Dhanaulti.
Frequently Asked Questions About Dhanaulti
A Snow-covered Trail in Dhanaulti
Where is Dhanaulti?
Dhanaulti is a hill station located near Mussoorie in Uttrakhand.
What's special about Dhanaulti?
Dhanaulti is a great place to enjoy both leisure and adventure. Blessed with towering hills, snow-capped mountains, and stunning views, it is home to a wealth of adventure sports and activities. Since it is very near to Delhi-NCR, it assumes even more importance as it very easily accessible by expressway (Delhi to Dehradun).
How do I get from Mussoorie to Dhanaulti?
On average, the journey time from Mussoorie to Dhanaulti is 1 hr by car as the distance is just around 24 km Mussoorie to Dhanaulti.
Is it safe to drive from Delhi to Mussoorie?
It is absolutely safe for people to make a road trip from Delhi to Mussoorie. Many people prefer to use the road rather than the train. Yes, traveling to Mussoorie is safe all year round owing to the excellent road in most part of the journey.
How do I get from Delhi to Dhanaulti?
The distance from Dhanaulti to Delhi is 293 km. By road, you can reach Dhanaulti from Delhi in about 9 hours. Dhanaulti has no train station or airport. Dehradun is the nearest train station and Dhanaulti's nearest airport is his Dehradun Jolly Grant Airport.
How much travel time is from Dehradun to Dhanaulti?
Dhanaulti is just about 40 km from Dehradun, which generally can be done in under 2 hrs on a clear road.
Is there snow in Dhanaulti?
People are very curious to know Dhanaulti temperature. Well, it is very pleasant in summers - in the range of 13 degrees to 30 degrees celsius. The winter in Dhanaulti is quite harsh.
Winter temperatures in Dhanaulti range from 1 to 7 degrees Celsius. Snowfall is common in January and February. So, don't forget to carry your jackets, gloves, and accessories suitable for snowy conditions. The snowy landscape is beautiful, and many tourists come to see the snow during this time.
Is Dhanaulti Worth Visiting?
This is among one of the most serene towns you can find near Delhi-NCR. It has so much to offer to everyone. Whether you are looking for a peaceful time amid stunning mountains, whether you want to catch up with some fresh air, whether you want to beat the heat or you want to have some adventure.
Dhanaulti ticks all the right boxes. You are going to have the best time of your life with your folks here!
Is it safe to visit Dhanaulti in August?
August and September are Monsoon months across the country. It rains heavily in the hills which sometimes becomes the cause of landslides. I personally will not recommend visiting a hill station during the rainy season.
What about the hotels in Dhanaulti?
Dhanaulti hotels offer you a range of choices for different tastes and budgets. There are also many acclaimed homestay options available that offer huge discounts depending on the seasons. You can check out the latest discount offers by Dhanaulti hotels and homestays here.
In conclusion, if you are looking for some recreation, relaxation, adventure, and spirituality in midst of spectacular snow-capped mountains, you ought to visit Dhanaulti this season!
Dhanaulti is more beautiful than you can imagine. I am sure, the above 7 reasons will inspire you to visit this picturesque town as soon as possible.
If you have any questions regarding Dhanaulti – do comment below and I will be happy to answer your queries.
If you have been to Dhanaulti, do share your experiences by commenting below, I would love to hear back!
Happy traveling!
PS: You're advised to avoid driving into the mountains during the monsoon season as instances of landslides are high during these months. Also, make sure to follow all the Covid19 protocols for your own safety and that of the local community.
Many thanks!
Till my next post, stay safe!👋
You may also like:
Things To Do In Dehradun (Activity #6 Can Surprise You)
11 Simple Tricks To Reduce Anxiety in The COVID19 Era
If you enjoyed reading this post, you can thank me by leaving a comment below and sharing it with your family and, friends! Thanks & Cheers! :)
Share This Article
Also, don't forget to subscribe to the mailing list to receive all the new posts directly in your inbox.