Most Beautiful Places in The Philippines
Updated on December 7, 2022
Well, if I say that the Philippines is on top of my bucket list, no one should be surprised! Simply because it is one of the most adorable countries in the world! The Philippines is blessed with the problem of plenty as this archipelagic country consists of 7,640 islands. So, it is a BIG task to find the most beautiful places in the Philippines, literally!
Those of you who have done a bit of research must be aware of the fact that the Philippines is divided into the three main island groups of Luzon, Visayas, and Mindanao, representing different regions of the country. Each region has its own charm but pristine ocean, white beaches, gorgeous waterfalls, lush green pastures, and mystic dense forests pull the travelers like a magnet.
What's there in this post? Here's the list of topics covered:
5 Most Compelling Reasons to Travel to The Philippines

14 Most Beautiful Places In The Philippines

Where to Stay on Samal Island Philippines

FAQs Regarding Visa Requirements

FAQs Regarding Travel/Visitor's Insurance

FAQs Regarding Missed Flight Compensation

FAQs Regarding International SIM Card For High-speed Internet Connectivity
It's not surprising that the Philippines has some of the best beaches in Asia, as you are surrounded by the Pacific Ocean, and scuba diving opportunities are great.
Well, before I mention the Most Beautiful Places In The Philippines, some of you might be interested to know why to pick the Philippines? What makes the Philippines so unique and desirable among travelers the world over?
I'm sure you must be aware of the fact that many Philippines islands and beaches, like Boracay, Samal, Palawan, and Siargao have consistently bagged top positions for being the Best Beaches in the world by some of the world's most trusted and renowned publications.
While there are plenty of compelling reasons, I am going to talk about the 5 Most Compelling reasons to travel to the Philippines. Let's get started! (keep reading till the end to know the 14 Most Beautiful Places In The Philippines)
Reason #1: Philippines Boasts Loads of Sunshine All Through The Year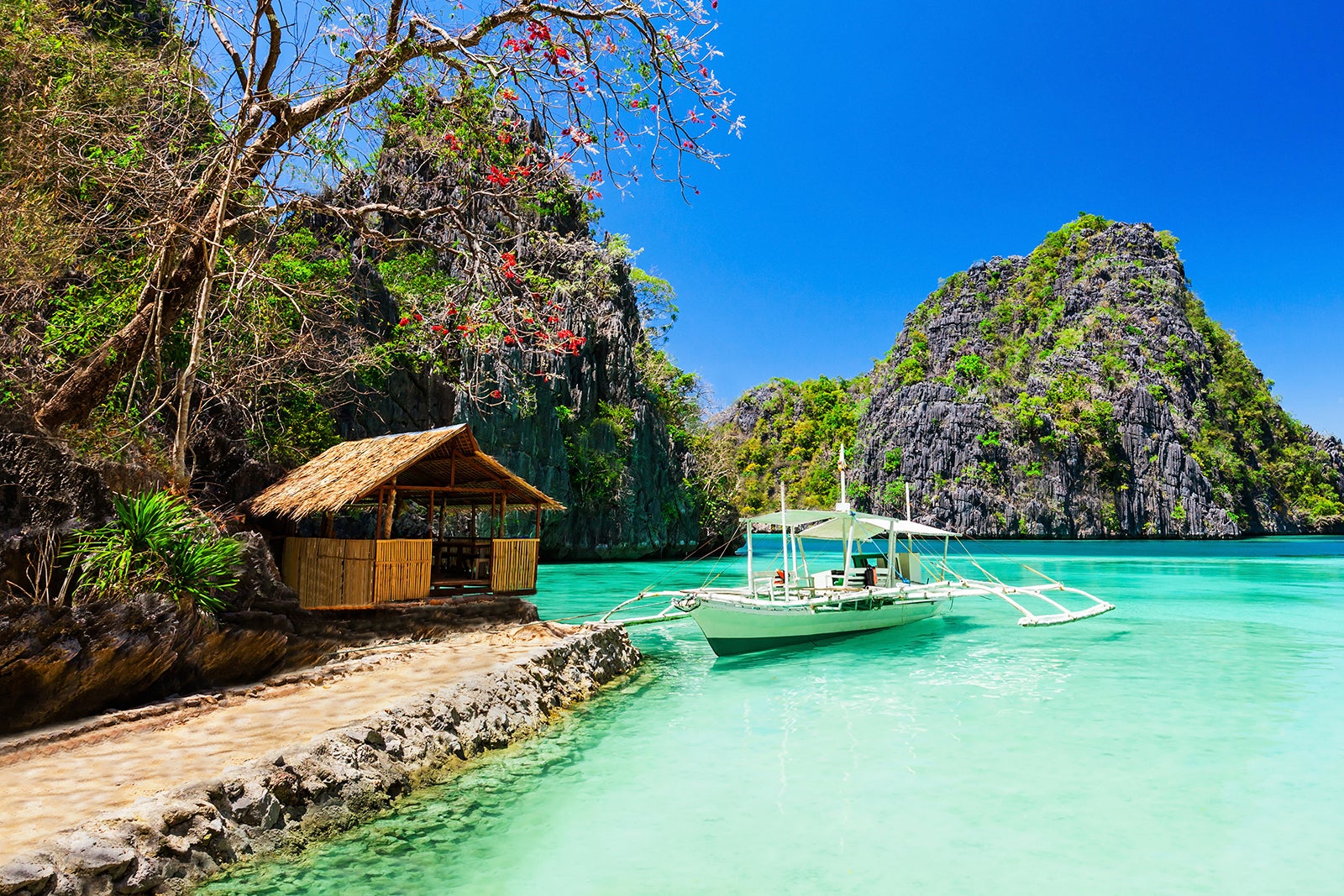 Most Beautiful Places In The Philippines
Escape from winter? If you're anxious for the sun to hit your skin, the Philippines has it. In the tropical country of the Philippines, there are only two seasons, the dry season and the rainy season.
The dry season is from November to May, and the rainy season is usually from June to October. The rainy season is still sunny and warm, so tours in the Philippines are available all year round and need to be canceled only in the event of a typhoon.
The warmest months are the summer seasons of the Philippines in March, April, and May. January and February are the best months to travel due to the sunny sun, but the overall climate is cool. Filipino island and beach destinations such as Boracay, Palawan, and Cebu are the most enjoyable during the dry season. Search for the best deals on Hotels on Trivago here.
Reason # 2: Friendly and Helpful People
Most Beautiful Places In The Philippines: Filipinos are always happy to help
Aside from the beautiful spots of the Philippines, the warmth and hospitality of Filipinos are a reason to visit this country. In fact, the Philippines is often ranked as the most friendly country in Asia. The moment the plane lands here, Pinoy's pure and adorable smile welcomes you.
Filipinos are very proud of their beauty and culture. So when you meet a traveler visiting the country, the locals will help you experience this. Filipinos, who act as tour guides, come naturally from teaching the local language to pointing out the best places to visit and the food to try.
Communication with the locals is not an issue. English is one of the official languages ​​in the Philippines, and most Filipinos speak and understand English.
Filipinos are also very kind. The concept of "extended family" is an important aspect of their culture. If you have Filipino friends who invite you to their home, they treat you as if you were part of their family. Don't be surprised if they regularly prepare a homemade Filipino feast for you. Homestay is one of the best options when visiting the Philippines. Grab the coolest offers and lowest rates on Trivago here.
Reason # 3: The Philippines is Super Affordable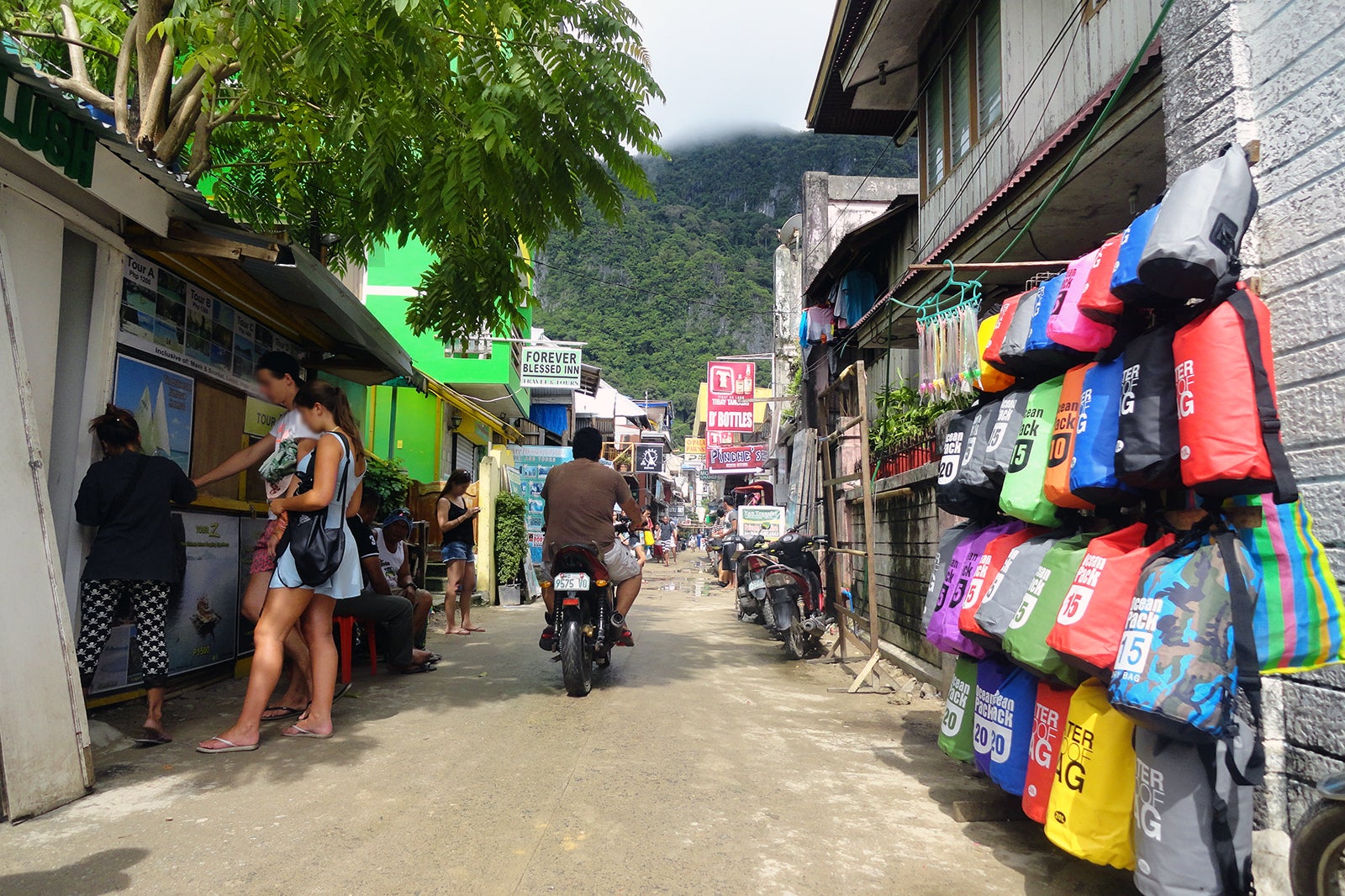 Most Beautiful Places In The Philippines: The Philippines is very affordable
Cost is one of the major considerations of a traveler. Good thing, traveling in the Philippines is very affordable. For example, there are plenty of day tours that just cost around PHP1000 (USD 20).
You will find that there are a lot of affordable accommodation options for you in the Philippines as well: from dorm-type hostels to bed-and-breakfast homestays that are both perfect for budget-conscious travelers. Mind you, affordable does not mean they are not up to the mark, in fact, many of you will find them quite nice for the price you pay here!
For those looking for a better value, stunning resorts at very affordable rates are also available for discerning travelers. Oftentimes, package deals can be found if you know where to look :)
Food in the Philippines is cheap and exotic too. For roughly PHP100-150 (USD 2-3), you will find yourself a decent breakfast place that offers classic Filipino food with coffee. The same goes for your lunch and dinner.
Even alcohol is cheap, so you can have a fun nightlife while traveling without breaking the bank. Local transportation doesn't cost much as well, and you might find them a lot cheaper if you're traveling with a group so that you can divide the costs.
As a budget-friendly destination, you can spend at least two weeks in the Philippines to explore a good bunch of islands or beaches and land attractions without having to spend that much.
Services, such as spa treatments, haircuts, massages, and fine dining are also relatively cheaper in the Philippines. Make sure to pack these into your itinerary when visiting.
If you're lucky, you might have some money left after your trip that you can use to buy unique locally-made souvenirs in the Philippines. Now, Trivago offers you to make your weekends special. So, all you need to do is to hop on the Trivago website to see what's happening near your stay location.
Reason # 4: the Philippines Is Home To World's Most Beautiful Beaches and Islands
Most Beautiful Places In The Philippines: One of the alluring beaches in the Philippines
Yes, this is the reason why you visited this page! The Philippines, as we will discuss in detail below is home to some of the most stunningly beautiful beaches and islands on earth! There is hardly any exaggeration here :)
The Philippines is home to some of the most beautiful islands in the world, including Boracay, Palawan, and Siargao. Boracay Island has a long white sandy beach, where you can not only watch the sunset but also enjoy activities on the water. Grab huge discounts on best-in-class hotels in Boracay and Palawan on Trivago right here.
With over 7,000 islands and coast-to-coast white sands, the fact that the Philippines is endowed with the magic of nature's wonders cannot be denied. If you start visiting just the islands, you will have endless possibilities in the Philippines.
Most of these islands are unaffected by the modernity of the resort, providing travelers with a long-awaited break from the hustle and bustle of life. If island hopping and a relaxing holiday are your kinds of leisure, probably you don't really need more reasons to visit the Philippines.
Reason # 5: The Philippines is Full of Natural Wonders
Most Beautiful Places In The Philippines: A Black Snapper in El Nido
The Philippines has unique natural wonders. Be in awe when taking the Puerto Princesa Subterranean River Tour that takes you to Puerto Princesa Subterranean River National Park.
It is the longest navigable underground river in the world, a UNESCO World Heritage Site, and one of the New Seven Natural Wonders. The Puerto Princesa Subterranean River features an underground river cave system with impressive stalactite and stalagmite formations.
The Philippines is also home to Bohol's Chocolate Hills, thousands of hills that look like giant chocolate Kisses. The Chocolate Hills were actually caused by coral deposits through rain and erosion. If you want to see the brown mounds, it's best to explore the Chocolate Hills during the dry season from November to May. During the rainy season from June to October, it turns green.
If you've ever wondered what it was like to live again when modernization hadn't happened in the Philippines, take a trip to Cordilleras, North Luzon.
With terraces behind artificial paddy fields, this stunning mountain landscape dates back to the pre-colonial Philippines and is considered a treasure trove of Filipino culture, traditions, and craftsmanship.
The waterfalls of the Philippines are also fascinating sights. Join a tour of Kawasan Falls in Cebu, Pagsanjan Falls in Pangasinan, and Bomod-ok Falls in Sagada to explore some of the best waterfalls in the Philippines.
Other natural wonders in the Philippines include Taal Volcano in Batangas, the smallest active volcano in the world, and Mayon Volcano in Legazpi.
In short, the Philippines is a treasure trove for nature lovers. Anyone who appreciates nature will fall in love with the myriad beauty in every nook and corner of the Philippines.
Now, let's talk about the 14 Most Beautiful Places In The Philippines:
1. Boracay
Most Beautiful Places In The Philippines: A white sand beach in Boracay Island
There's a reason Boracay Island is considered the beach capital of the Philippines as it has more than a dozen beaches. This small island in the western Visayas is ideal for beachgoers to relax in the sun or enjoy water activities. White Beach, on the west side of the island, is one of the best beaches in the Philippines.
Puka Shell Beach is at the tip of the island and is a favorite spot for shellfish collectors. Cagban Beach is a quiet spot with a nearby cave that is rumored to still contain treasure chests. Diniwid Beach is a small beach at the northern end of White Beach, with the best view of the island from the platform rocks located there.
The island is famous for its many resorts, so finding a place to stay is easy. For panoramic views of the island, take a day trip to its highest point, Mount Luho. No wonder, Boracay island is one of the most searched destinations among travelers. It is indeed one of the most beautiful places in the Philippines.
2. Bohol (Chocolate Hills)
The island of Bohol in the central Visayas region of the Philippines runs at a slower pace and is a destination showcasing the country's natural beauty. One of the island's most unique natural wonders is Carmen's Chocolate Hills. This UNESCO-protected area resembles the landscape of Chocolate Candy Kiss, with 1,200 geological formations that turn brown during the dry season.
Bohol is a family-owned sanctuary for small tarsier primates known for their large, charming eyes. For a small fee, you can intimately stroll the grounds and stand a few inches away from small nocturnal mammals.
You are bound to create lifetime memories at Bohol, which of course also has some stunningly beautiful white sand beaches. It is impossible that when we are talking about the most beautiful places in Philipinnes and Bohol island doesn't feature on top of the list? Nah! Wanna look for the cheapest air tickets to Bohol, Philippines? Also, how about finding the best hotels at the biggest discounts on Trivago?
3. Cebu
Most Beautiful Places In The Philippines: Snorkeling With a Whale Shark in Cebu
Cebu Island in the central Visayas region is considered the best diving and snorkeling haven in the Philippines. For underwater lovers, Cebu is one of the best travel options to get up close to whale sharks, coral reefs, and sea turtles.
Some of the most spectacular sights on the water near Cebu are sea caves that attract photographers and outdoor enthusiasts looking for unique diving and snorkeling spots. About an hour's drive from Cebu City, Sudlon National Park is a breathtaking park to explore and hike.
While Cebu's biggest attraction is its water, Cebu City is a metropolitan area with attractions such as museums and cathedrals of interest to history buffs. Cebu is breathtakingly beautiful and serene, that's why it ranks high on this list of most beautiful places in the Philippines! Cebu has loads of exotic hotels and resorts that offer best-in-class amenities and super reasonable prices. Check the best ongoing deals on accommodations here.
4. Banaue
Most Beautiful Places In The Philippines: The Banaue Rice Terraces
Like in many other Asian countries, Banaue is famous for its step-farming to cultivate rice. The emerald green terraces are soothing pastures that offer reprieve to the big city tourists. The most striking view of the terrace is that clouds and fog rise from the mountains at sunrise, revealing the intricate landscape of the terrace.
The Batada Rice Terrace and Bangaan Rice Terrace are UNESCO's World Heritage Sites. To get a deeper understanding of the region, explore the villages of Banaue and Hiwang and interact with the indigenous people who farm in the rice terraces. Goes without saying, you should plan a long holiday to have a relaxed stay in an exotic place like Banaue.
5. Vigan
Most Beautiful Places In The Philippines: A street of colonial houses in Vigan, Philippines
6. Davao City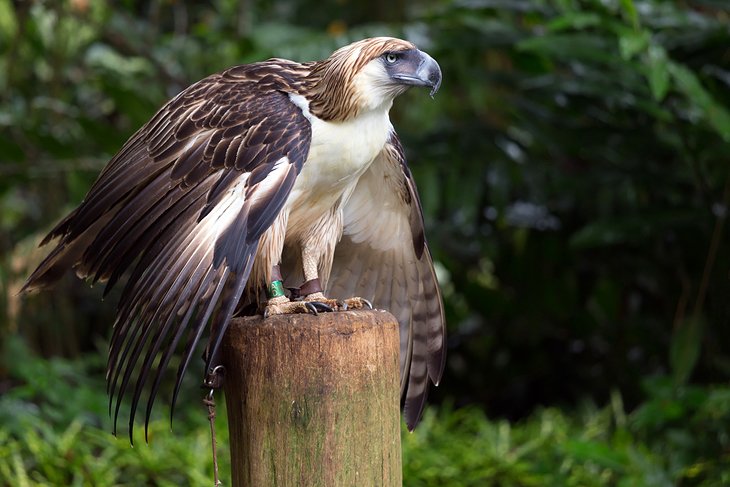 Most Beautiful Places In The Philippines: A Philippine Eagle
7. Sagada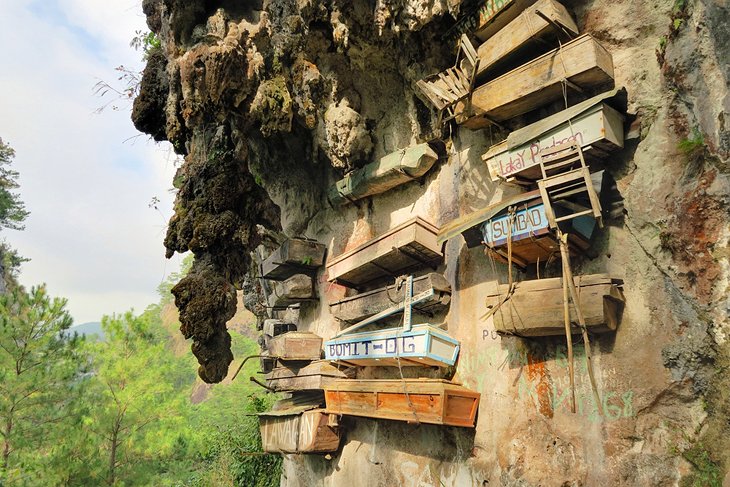 Most Beautiful Places In The Philippines: The Hanging Coffins in Sagada
8. Coron Island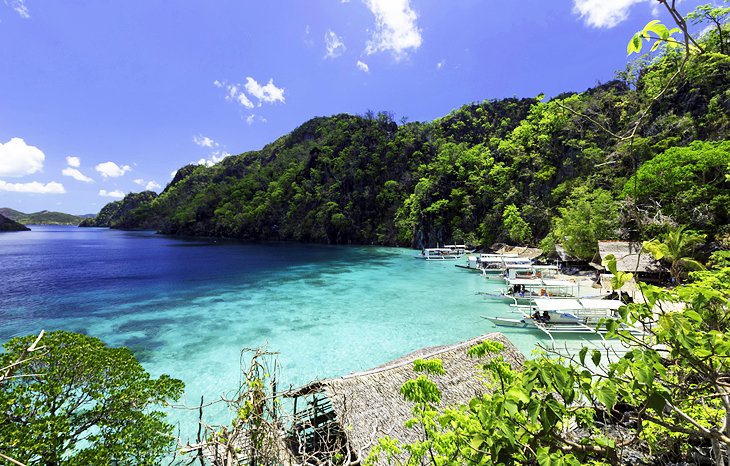 Most Beautiful Places In The Philippines: Coron Island
9. Baguio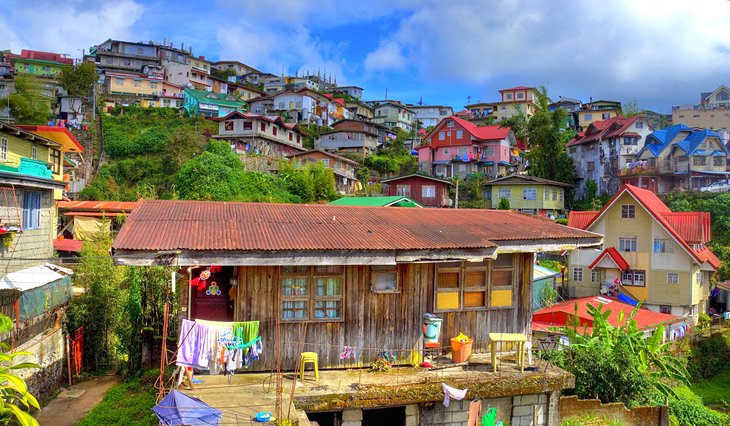 Most Beautiful Places In The Philippines: The Baguio City
10. Puerto Princesa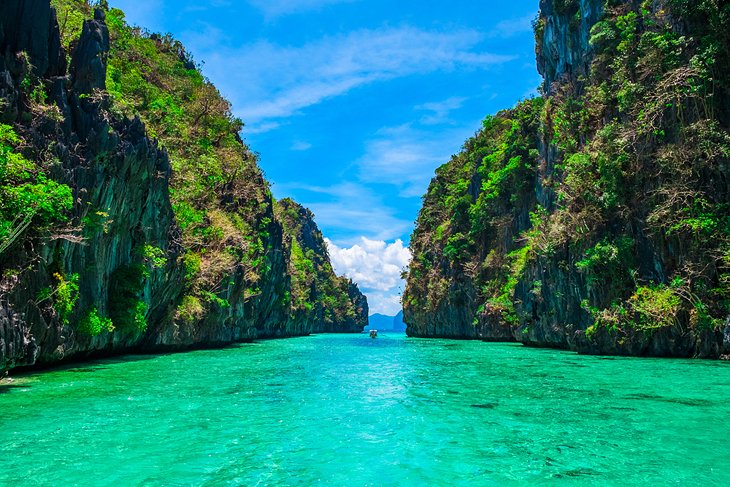 Most Beautiful Places In The Philippines: Puerto Princesa, Palawan
11. Samal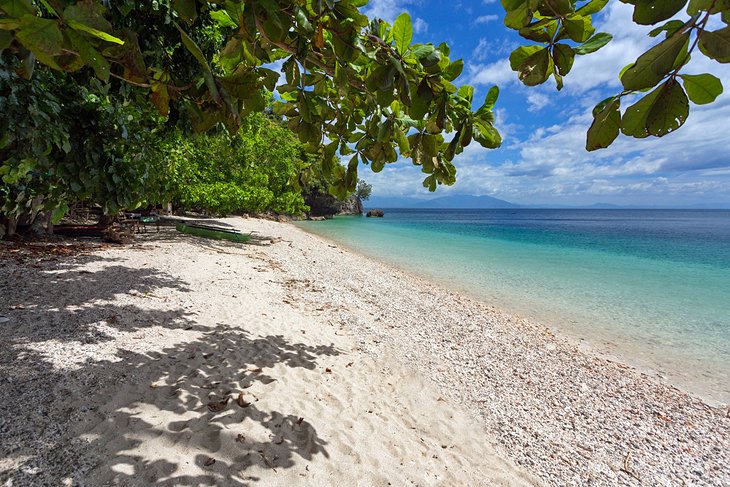 Most Beautiful Places In The Philippines: Samal Island
12. Apo Island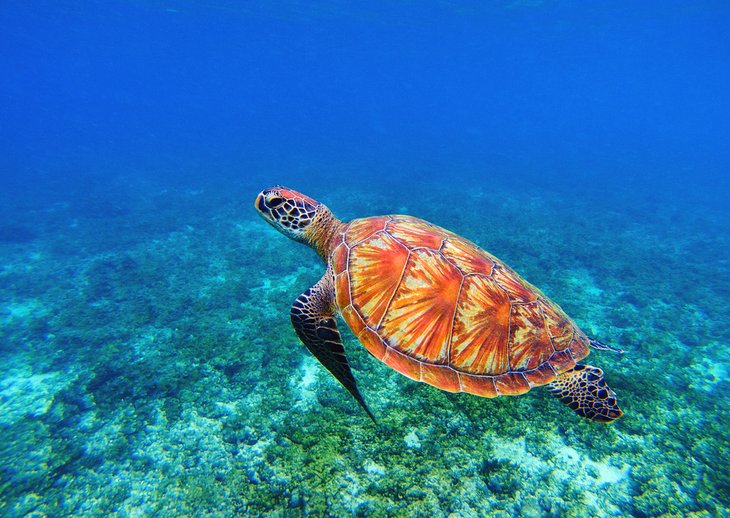 Most Beautiful Places In The Philippines: A sea turtle in the waters off Apo Island
13. Siargao Island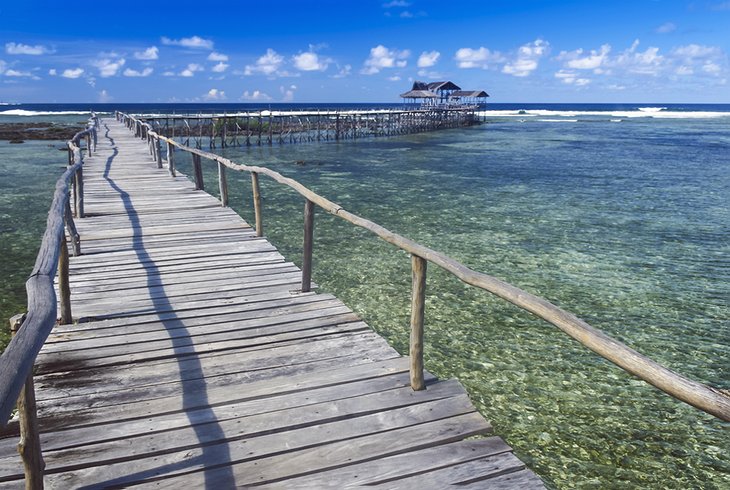 Most Beautiful Places In The Philippines: The wooden walkway for the surfers in Siargao
14. El Nido
Most Beautiful Places In The Philippines: Pristine waters of El Nido, Palawan
El Nido is arguably one of the most beautiful places in the Philippines or even the world!
El Nido covers an area of ​​approximately 400 square kilometers at the northern tip of Palawan Island. This first-class municipality also consists of 45 islands and islets, all of which are part of the Bacuit archipelago. El Nido, which means "nest", takes its name because it is an important turtle breeding ground.
Famous for its white sandy beaches with turquoise waters, coral reefs, and stunning limestone formations similar to those of Ha Long Bay in Vietnam or Phang Nga Bay in Thailand. No wonder, El Nido is one of the most popular vacation destinations in the Philippines.
The Bacuit archipelago is the main attraction in El Nido. These islands have diverse geological formations. One can easily do day trips from El Nido, Simizu, Cadlao, Dilumacad, and Matinloc. Sea kayaking is an eco-friendly way to explore each island.
Snorkeling and scuba diving are the activities that have started to put El Nido on many travelers' lists. Thanks to marine life and the abundant coral reefs that surround most of the islands on land, exploring the rainforest in search of waterfalls and exotic flora and fauna can be a rewarding travel experience.
El Nido is one of the most amazing places that is bound to mesmerize you with its sheer beauty. If you are on a tight budget and are looking for one place to visit in the Philippines, it has to be El Nido, Palawan. Check out the lowest airfares here and some of the best hostels at the most affordable prices.
15. Sangat Island
Sangat Island is a tiny island in the Philippines situated 2 kilometers off the coast of Busuanga close to Barangay Bintuan, Coron in the northern part of the Calamian Islands in the province of Palawan in the Philippines.
Here you can hop on a speedboat and book a jet ski tour through the lush mangroves and glassy blue waters of Coron's southeastern tip. Nestled amongst towering limestone cliffs, lush greenery, and palms, it is a truly exclusive and secluded paradise.
Things to do on Sangat Island:
Jet ski through the mangroves. Don't forget to stop by the enchanting waterfalls.
Soak in a natural hot spring.
Sangat Island is the best and easiest access point to the shipwrecks that have earned Coron the title of "The Wreck Capital of the World".


Where to stay?
Sangat Island Resort is a dive resort located on the sandy beaches of Sangat Island, offering guests a unique opportunity to roam the island's relics.
Also, you can check out the best Hotel deals on Trivago here.
16. Snake Island, El Nido
Although Snake Island is one of the busiest destinations on the list, it's still worth your visit. El Nido is a traveler's paradise with charming bars, restaurants, and island-hopping opportunities to explore lagoons, caves, and isolated beaches.
Dive or visit one of the many iconic landmarks, including Secret Lagoon, Commando Beach, or Snake Island (pictured). For a more authentic way to explore than hop on a tour boat, grab a kayak and row the boat to one of the many secret beaches dotted with karst formations.

Things to do on Snake Island:
Island Hopping Tour – Snake Island is a must on your itinerary!
Rent a kayak from the town and head out to secluded lagoons and hidden beaches.
Climb the Tarau Cliffs with a local guide who will take you to the summit with a panoramic panorama of the town as far as the eye can see.
Where to stay on Snake Island?
Like Coron, El Nido offers accommodations to suit all budgets and can be booked in advance via some of the leading portals like
Expedia
and
Trivago
.
17. Nacpan Beach
Most Beautiful Places In The Philippines: Nacpan Beach
Nacpan Beach is a 40-minute tricycle ride from El Nido. Nacpan Beach is one of the best and most accessible beaches in the Philippines. Deep green-blue sea, isolated sandy beaches, and palm trees covering the entire sandy boulevard - Nacpan beach is a sheer paradise! Grab a coconut or two and bask in the sun!

Things to do on Nacpan Beach
Swim and snorkel in the 4km stretch of water along Nacpan Beach.
Walk to the end of the beach for panoramic views of twin beach and adjacent Kalitang Beach.
Sip a beer or coconut at the resto-bar.
There's so much more you can do in and around Nacpan Beach.
Click here
to browse all the activities.
Where to stay?
Seda Lio is one of the popular choices among travelers, checkout out the best deals on this resort and more on
Trivago
,
Trip.com
, or
Expedia
.
18. Bantayan Island
Most Beautiful Places In The Philippines: Bantayan Island
Bantayan island is a hidden gem, which is not only captivating, and alluring but truly heavenly! The locals are welcoming and warm people who always greet with a smile. Here, you can explore the fine untouched white sand beaches, local cafes, fish markets and even go skydiving!
Bantayan is the only way to try skydiving in the Philippines. So why not mix an adrenaline-pumping adventure with a little-known adventure!? If you'd rather stick to the ground, cycling between the two main towns at opposite ends of the island will give you a glimpse of the local culture.
Going to Bantayan isn't difficult. One can take a bus from Cebu City to Hagnaya Port and take a ferry to the island!
Things to do on Bantayan Island:
If you like adventure, try skydiving!
Go cycling between the main cities of Santa Fe and Madridejos.
Spend a relaxing day exploring the beaches in Santa Fe.
Where to stay on Bantayan Island?
https://tinyurl.com/AirTicketsAndHotels
19. Romblon Island
Most Beautiful Places In The Philippines: Romblon Island
The islands of Romblon, Sibuyan, Carabao, and Tablas are truly beautiful, with sand stretching as far as the eye can see. You'll find more locals than tourists on secluded sandy beaches, and little-known waterfalls! Check out the sand bar at Bonbon Beach. Take a stroll on the quaint beach and connect with nature!
What to do in Romblon?
Do nothing! Just laze around at the magnificent Bonbon Beach.
Located on Romblon Island, Libtong Falls offers a little-known adventure with a local guide.
Where to stay in Romblon?
https://tinyurl.com/AirTicketsAndHotels
20. Cebu Kawasan Falls
Many people choose to visit Kawasan Falls because it is one of the best waterfalls in the Philippines, but those looking for an alternative way to explore the higher part of the falls end up in the lagoon at the bottom!
Here, you can try
canyoning
through valleys, and rock pools. This is arguably one of the best ways to explore Kawasan Falls, for adventure-loving folks! After jumping through pools of glassy blue rocks nestled in lush jungle vegetation, be sure to catch your breath before reaching the jaw-dropping climax at the bottom of the waterfall.
Things to do in Cebu Kawasan Falls:
Cliff jumping tours can be booked in advance or upon arrival in Cebu.
Ride a wooden raft at the base of Kawasan Falls, where locals dive in and out of the falls.
A 3-6 hour trek from Kawasan Falls, trekkers will find a spectacular peak overlooking Cebu from Osmena Peak, which rises over 1,000m above sea level against a backdrop of stepped cliffs.
Where to stay:
Cuestas Beach Resort is an affordable beachfront resort located in Badian, just 2 miles from the Falls! You can always explore more accommodation options depending on your preferences and budget. See the
multiple stay options and the best deals here
.
21. Pulag Mountain
Mostly skipped but undoubtedly one of the Philippines' greatest adventures, no trip to Luzon is complete without a visit to its highest peak, Mount Pulag!
It's a 4-6 hour trek to Pulag Peak, the 'cloud sky'. Enjoy the highest point in the Philippines as the sun rises majestically over a sky of clouds sinking at the first light of the day and dispersing below. The trek back to the village is breathtaking, with magnificent hills, flora and fauna, and fresh mountain air.
Things to do:
Take a jeepney from downtown Baguio to Kabayan at the foot of Mount Pulag for a local way of riding.
If you want to see the sunrise, you should start your trek by 2 am to be just in time for a spectacular sunrise.
Take time to explore the mountain village of Kabayan, where you can sample local food, visit market stalls and chat with the villagers.
Where to stay?
22. Malapascua Island
If you want to experience diving in the Philippines, look no further! Malapascua Island is the best place to experience diving. Here, a rare opportunity to dive with beautiful corals, tropical waters, and thresher sharks awaits you.
Bounty Beach is the island's main beach, but if you're willing to walk an hour and a half from one end to the other, you can relax on any of the virgin beaches across the island.
Explore the lighthouse after trekking on the other side of the main strip where the dive shop is located.
Where to stay?
Evolution Dive Resort is one of the island's premier dive resorts for fun diving opportunities. Enroll in one of the dive courses or make use of the snorkel rentals to enjoy underwater heaven.


Frequently Asked Questions (FAQs)
What is an eVisa?
An e-Visa is an official document permitting entry into and travel within a certain country. The e-Visa is an alternative to visas issued at the ports of entry or visiting an embassy/consulate to obtain traditional paper visas. e-Visas are linked electronically to the traveler's passport.
Apply now
!
How Do I know when I need a Visa?
You can use
this tool
to search if you need a travel visa. You just need to mention where you are from and where you are going. Based on this information, the tool will tell you all the relevant details like if the Visa and/or other documents are required along with the costs instantly. Check if you need a
Visa here
.
How long does it take to receive the Visa after applying?
It depends on the country issuing the visa. For many countries such as Australia ETA and Turkey e-Visa, the process can be done in 15 minutes through the rush service offered by
iVisa
. For other countries such as the Indian tourist Visa, the process usually takes 24 hours. The exact time can be found on each application form.
iVisa
guarantees that your application will be the fastest way to apply anywhere.
Where can I apply for Visa online?
We strongly suggest
iVisa
as their process is one of the easiest ways possible. Through easy-to-use online application forms and world-class 24/7 customer service, they make the whole visa process quick and simple! They also use best practices when it comes to protecting your data and credit card.
What kind of Visas does iVisa process?
iVisa
offers two types of Visa: Electronic visas (e-Visas) and traditional paper visas, based on your destination. In addition, they also offer the following services/documents that are required by certain countries:
ETA (electronic travel authorization)
Tourist Cards
Visa on Arrival pre-registration/approval form
Tourist Invitation Letters
Embassy Registration service.
How do I apply?
The process of Visa application is very simple and straightforward on
iVisa
.
Select the country to which you are requesting the visa
Select the type of visa and read the instructions carefully.
Select Apply Now
Fill in the application form
Pay using a Visa Card, Mastercard, or other debit card.
Await approval via email, then download and print the e-Visa from your account.
Present your printed e-Visa to the immigration officer at the port of entry.
I need more information, where can I get it from?
Please visit the website of
iVisa
for all the details and more
FAQs
. Remember,
iVisa
is the world leader and highly acclaimed Visa services for all countries, from all countries!
FAQs Regarding Missed Flight Compensation
My flight was delayed, can I get compensation?
Air travel is not always the smooth-sailing experience we'd like. Unfortunately, flight delays happen. If you've been on a delayed flight, you may be able to claim up to £510 (€600)
flight delay compensation
under a European law called EC 261. To find out more check your compensation here.
My flight was canceled, can I receive compensation?
You might be eligible to claim up to £510 (€600) cash compensation.
Info for coronavirus cancellations:
Cancellations caused by coronavirus don't qualify for compensation.
However, you can check if previous flights from the
past 3 years
qualify for up to
£510 compensation by
clicking here
.


I missed my connecting flight, am I eligible for compensation?
Some journeys require connecting flights to reach a final destination. For this type of travel, a passenger needs to board more than one flight to get to the end of their flight journey.
For instance, you can travel from Liverpool to London, then from London to Los Angeles.
However, without warning, flights can be canceled. In other circumstances, a passenger can miss a connecting flight due to the first leg of their journey being delayed or due to denied boarding.
If you qualify under EC 261, an airline is obligated to pay you missed connection flight compensation of up to £510 (€600). Click here to see if you are eligible to receive the compensation.
FAQs Regarding Travel Insurance
Travel Insurance For Complete Peace of Mind While You See The Most Beautiful Places In The Philippines
Can I buy a Travel Insurance Policy online?
Yes, you can buy most travel policies online. In fact, you get your policy documented in your mailbox instantly! Get your instant travel policy at the cheapest rates right here.
But I am located in my home country, which is outside of the USA. Can I still buy the travel policy?
I am immigrating to a new country, can I buy the Medical policy?
Yes, you can buy all kinds of policies via VisitorsCoverage (one of the biggest American companies in insurance) within a few minutes. Check the best quotes for your preferred policy by clicking here.
For more details and all other queries about Travel and other insurance, please hop on to the official
VisitorsCoverage website.


FAQs Regarding International SIM Card For High-speed Internet


Is it possible to buy an International SIM Card online?
Yes, you can easily buy an International SIM for all your high-speed internet requirements. You will love it as it is guaranteed to deliver high-speed internet at the most affordable rates! Check it out here.


What about the rates of calls, SMS, and the internet?
As mentioned above, you're gonna love it as the rates will match that of your home country. Find more details here.
Can I order from my home country before I travel?
Yes, of course, you can order your International SIM well before you start your journey. In fact, you should order your SIM delivered in advance. Drimsim delivers almost anywhere in the world, in around 190 countries to be precise! Order now!


But I don't want the physical SIM card, I need a virtual SIM card. Is that possible?
Absolutely, you can get your virtual SIM card delivered instantly as soon as you make payment! Order your eSIM now!
Conclusion
In conclusion, if you are a water baby, and love sun and sand, there is no need to think twice as the Philippines is one of the most stunningly beautiful tourist destinations in the world. I am sure, this summary of the most beautiful places in the Philippines will help you finalize your booking tickets to this exotic country.
We understand that the Philippines has plenty more to offer than mentioned in this article. If you have been to the Philippines and believe we missed something that should be incorporated in this Most Beautiful Places in the Philippines Guide, please let us know by commenting below or writing to us!
Happy traveling!
Till then, stay safe!👋
You may also like:
If you enjoyed reading this post, you can thank me by leaving a comment below and sharing it with your family and, friends! Thanks & Cheers! :)
Share This Article
Also, don't forget to subscribe to the mailing list to receive all the new posts directly in your inbox.
Disclosure: This content is reader-supported, which means if you click on some of our links and buy a product/service, we may earn a commission at no extra cost to you.Full disclosure
here
.